At some point in the wedding planning process, you will go through the stages of looking at one beautiful dress after another. You may be confused about which dress is right for you because there are so many great alternatives, but you need a little guidance on what is normal!
Before deciding on a dress that you're not completely sure about, consider these elements that can make the decision-making process easier.
1. This is the first thing to think about when choosing a wedding dress. If your wedding is in the summer, a light dress that accentuates your feminine figure can give you an effortless look of beauty. Perfect for summer weddings, BLANCHE gives you the choice of a long silhouette or a high-low silhouette!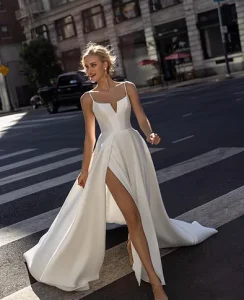 2. Location. If you're getting married at church, you may want to dress modestly without exposing too much skin, so an ALOUETTE straight neckline, flared skirt, and detachable hat come in handy! It gives you all the coverage you want for the ceremony and gives you a second look at your reception!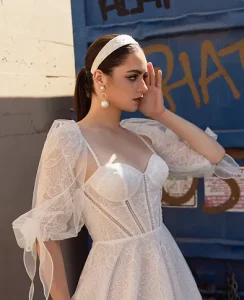 3. Wedding style.While you have the freedom to wear whatever you want on your wedding day, knowing your bridal style can make things a lot easier! If you want a vintage wedding style, you can wear the charming BALLGOWN Vivienne Atelier Bridal Wedding Dress.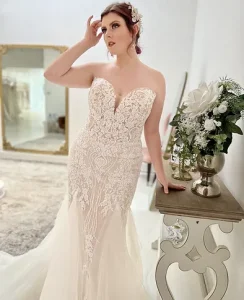 4. Body type. This could be the dress for you if you are looking for something that fits your figure like an hourglass. The Mermaid wedding gown is a stunning mermaid gown with subtle lace accents that will flow down the aisle with its cathedral carriage. The illusion of a low back and intricate Swarovski beading around the bodice is accentuated by the dangling neckline.
Many brides are looking for the perfect wedding dress for them and Vivienne Atelier Bridal never disappoints them!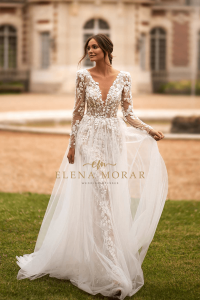 5. Household. If you're working on a tight budget, like our #vivienneatelier, we've always got something for you to make your dream bridal look come true!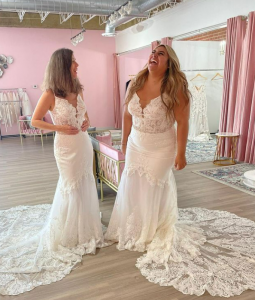 Vivienne Atelier Bridal will always be a hero in the bridal industry when you're planning your big day and don't know what to wear! Our expert hairstylists will be honored to be a part of your wedding planning process and make the most of your special day and beautiful wedding! Visit us at our bridal shop houston.
With us, you are not alone!